Virtual Reality (VR) is a term that has been around for years, but in recent years, it has become more accessible and affordable, leading to its increased adoption in various business use cases and across a variety of industrial applications. The simple definition is that Virtual Reality is any immersive technology that transports users to a virtual environment that looks and feels like the real world. VR can provide users with a 3D interactive experience and enables them to engage with the environment with near-real world fidelity. 

Yet VR is often confused with other related terms, such as Augmented Reality (AR) and Mixed Reality (MR). AR is a technology that overlays digital information onto the physical world, seamlessly integrating 3D objects into your current surroundings, while MR represents a fusion of VR and AR, where both virtual and physical elements coexist within the same environment (Apple has staked their claim to the term "Mixed Reality" with their new Apple Vision Pro). The difference between these implementations of similar technologies lies in the fact that in a complete "VR" environment,  users can remain entirely immersed in the real-life environment while simultaneously engaging in virtual activities. A good example of a world that is completely "VR'' can be seen in the novel and film "Ready Player One." Just as in this dystopian vision of the future, non-fictional VR experiences are often mediated through devices like glasses or goggles that enable tasks such as opening (virtual) files, making calls, and taking notes while on the move. 
Darwoft is passionate about helping businesses harness the power of VR to achieve real-world business improvements.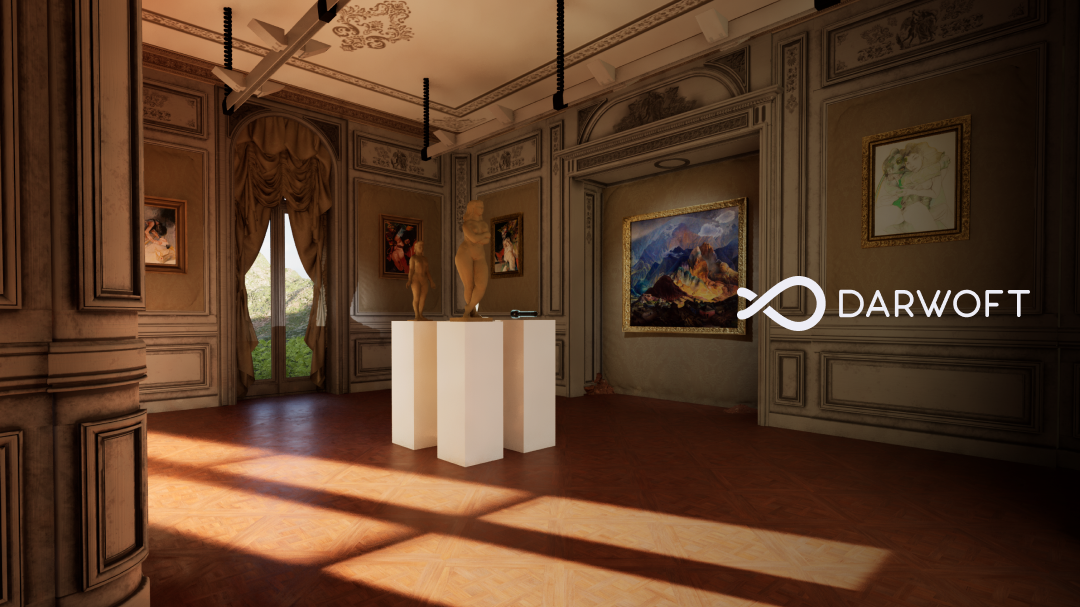 When our teams at Darwoft build a VR application, we follow these six key steps to deliver authentic value to your business: 
Step 1: Define the Experience You Want to Develop

Virtual Reality offers endless possibilities, making it suitable for a wide range of industries. Whether it's museums, universities, e-learning platforms, or even medical and financial institutions, VR can revolutionize the way experiences are delivered. Take the Evita Fine Arts Museum at the Ferreyra Palace in Córdoba, Argentina. The Director of the Museum, Mariana de Val, and her team wanted to recreate the museum in a VR environment to preserve the artifacts and give visitors a fresh experience. The key to our success here was clearly defining the essential experience and outlining the storyline in advance. If you don't know where you're going, you won't get there. We provide direction and a clear navigation route. 

Step 2: Get Granular with the User Experience

By defining the desired user experience at a very deep level, we ensure that every aspect of the VR environment aligns with our client's goals. We partnered closely with the team in charge of the museum to deliver something that could entirely exceed their expectations: yet in order to create  a "surround sound" full-on sensory experience, we had to control for every variable. A VR experience isn't immersive if it has any cracks or flaws in the interface. Instead, a VR sensory experience is designed to evoke powerful emotional and physical responses through the integration of sensory stimuli, creating a heightened level of realism and immersion and enabling users to feel as if they are truly present in a different scenario. This required careful planning and a lot of detailed user experience design work.

Our talented UX team worked tirelessly to create an immersive VR experience that allowed viewers to interact with sculptures, paintings, and exhibits in an entirely new 3D dimension. Though they adhered to the original plans to start modeling the museum items, they also reshaped and resized them while infusing the building with creativity and possibility. We included ambient sounds, such as those of the forest, for example, that appear when interacting with one of the paintings, or specific sounds triggered by actions, such as the audio guide that activates when approaching a specific area, providing information about the painting.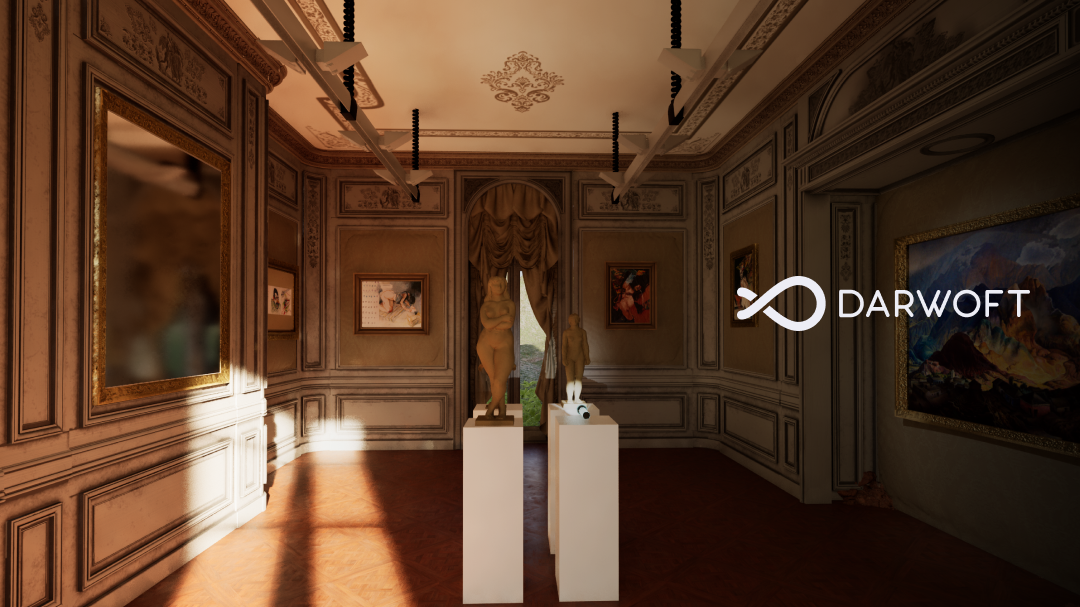 Step 3: Choose the Best VR Equipment 

Virtual Reality equipment and toolsets are not all created equal. To create a truly immersive experience, we worked with our museum partners to choose the best kit we could land. To bring a VR application to life for the Museum, we leveraged the latest VR equipment, including head-mounted display headsets (HMD headsets) and hands-on controllers. These essential components enabled users to immerse themselves fully in the virtual world and interact with it seamlessly.
(Read until the end to discover exciting news about our equipment!)
Step 4: Technical Implementation

The development process for VR is non-trivial. Our work with the Museum followed several key technical steps, such as mapping, scanning, and modeling. 
4.A Mapping entailed creating a 3D model of the building or environment, which is then integrated into a game engine like Unreal Engine. High-definition photos were essential to add intricate details to the 3D model, ensuring a captivating and realistic experience within the VR dome.
4.B Scanning was achieved through photogrammetry, where objects were scanned and transformed into 3D models based on photos taken in a controlled environment. By respecting proportions and recreating textures, we ensured that the virtual objects appeared faithful to their real-world counterparts. If not done correctly, the environment can appear too small or too large, resulting in a noticeable scaling issue.
4.C After developing the 3D space, we add aesthetic qualities like lighting, textures, and reflections to enhance the overall experience. Engaging events are also incorporated, enabling users to interact with the environment and trigger various actions. Ambient sounds further elevate the immersion, making the virtual world come alive. 
Step 5: Testing Makes Perfect

Testing a VR environment is a crucial phase in the development process to ensure a unique immersive user experience. The goal is to identify and address any potential issues or glitches that may disrupt the virtual reality simulation. Testers thoroughly examine the responsiveness of the VR application, assessing how well it tracks users' movements and interactions. They scrutinize visual elements for clarity, realism, and consistency, verifying that the virtual world aligns with the intended design. Sound and spatial audio are also evaluated to ensure they enhance the overall immersion. Additionally, testers analyze the overall performance, ensuring smooth frame rates and minimal latency to prevent motion sickness or discomfort. Rigorous testing guarantees that the VR environment offers users an engaging and flawless journey into an exciting, lifelike digital realm.
Step 6: Guide Users with Tutorials

Creating videos as user manuals is a powerful way to guide and empower users in navigating the immersive digital realm. As VR environments can be intricate and diverse, comprehensive user manuals play a key role in helping users understand the functionalities and interactions within the virtual world. Visually engaging video tutorials can demonstrate how to perform various actions, manipulate objects, and navigate through the virtual landscape effectively. These user manuals also offer valuable tips and best practices, ensuring users make the most out of their VR experiences. By providing accessible and informative guides, creators can foster a sense of confidence and comfort among users, encouraging them to explore and engage with the virtual world to its fullest potential. Ultimately, well-crafted user manuals contribute to a smoother and more enjoyable VR experience, elevating user satisfaction and promoting wider adoption of this transformative technology.
Who Can Develop a VR Application

Virtual Reality tools can be used in any field. The prevalence of these types of tools among educational institutions like museums, universities, and e-learning sites grows higher every day. Considering the multiple benefits VR offers to learning, students and teachers of any discipline find education more engaging and interactive with VR. Medical students can also use VR or related toolsets to simulate surgeries and other medical procedures, giving them a safe and controlled environment to practice and learn (See this article on VR in Healthcare). 
VR can also be used in scenarios that don't involve entertainment or education. For example, many companies create safe and controlled VR environments to train their employees on how to handle different - and potentially dangerous - operations in a safe environment. For example, a VR simulation can be used to train warehouse workers on how to use forklifts and other equipment, reducing the risk of accidents and injuries. Financial institutions have also adopted VR to create immersive and interactive educational programs for their customers, teaching them about financial management and investment strategies, which increases engagement and satisfaction for both employees and end customers.
Our Virtual Reality museum (reel)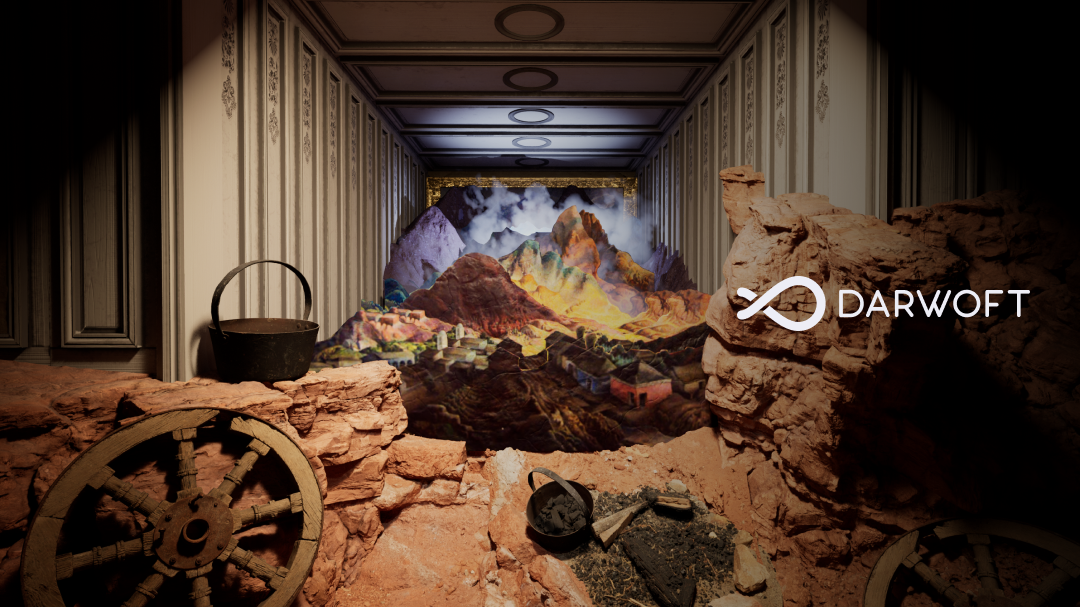 Why Choose Virtual Reality

Businesses and institutions with sensitive information and sacrosanct exhibits are increasingly turning to VR as a means of preserving artifacts while offering visitors an alternative and exclusive tour experience. By providing accurate measurements and exclusive interactions, VR allows for an unparalleled exploration of exhibits without any risk of damage. This technology enriches the highly personalized experiences, enabling reinterpretations of artwork and access to deep contextually-relevant content.
"I used to work as a Museum Tour Guide here (Palacio Ferreyra), but I have never had such an amazing experience before. I am amazed because I could touch the pieces of art. It was incredible. It's fantastic to become part of the pieces. I want to do it again!"  

The reception at the museum for Darwoft's example VR project has been truly remarkable. Visitors of all ages and backgrounds have been able to explore the digital world. They could interact with art exhibits, pick up objects, and even step inside the paintings, all while enjoying this one-of-a-kind experience that only virtual reality can provide without destroying the pieces of art. People could put on the oculus and go into the paintings. 
Exciting News: Apple's Vision Pro coming soon

Brace yourself for the next frontier! Apple's Vision Pro, a groundbreaking headset, is revolutionizing the way we interact with the virtual realm via a version of VR branded as "Mixed Reality". Featuring spatial computing, you can control the Apple Vision Pro with your eyes, hands, and voice – no additional hardware needed. With EyeSight technology, the level of immersion is entirely in your hands. The apps offer stunning 2D and 3D content from various angles, making the virtual experience more captivating than ever before.
Whether you're a professional or a gamer, Apple's Vision Pro caters to your needs. Immerse yourself in a spatial cinema to relive memories or watch movies, feeling as if the surroundings vanish around you. Engage with your favorite Disney characters like never before or become part of the live-action at a sports game without leaving the comfort of your home. Designed with comfort and mobility in mind, Vision Pro boasts advanced lightweight materials and soft, textile components. Developers can create captivating apps with familiar tools like Xcode, SwiftUI, RealityKit, and ARKit, or leverage Unity for full access to visionOS features. 
Privacy and security are paramount, and Vision Pro utilizes Optic ID, an effortless iris-based authentication system, ensuring your data stays encrypted and secure. Your eye input remains private, inaccessible to apps and websites, giving you peace of mind as you explore the digital world.
Embrace the Power of VR Technology with Darwoft

At Darwoft, we firmly believe in the transformative potential of VR technology. Our experienced team of software developers and designers has a proven track record of leveraging VR to enhance operations, boost customer engagement, and stay ahead of the competition. Whether it's logistics, healthcare, fintech, or retail, we can develop customized VR solutions to meet your unique requirements.
Contact us today at info@darwoft.com to embark on a journey of digital innovation and create unforgettable VR experiences for your customers.